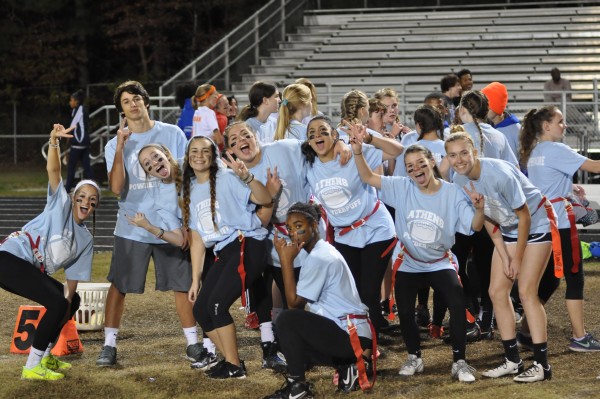 FOOTBALL GAME:     Flag football rules
FIRST PRACTICE:        Tuesday, October 4th, 6-7:30 PM (all teams meet at the new practice field)
SECOND PRACTICE:   Wednesday, October 5th, 6-7:30 PM
T-SHIRTS:                      Shirts will be distributed in the lower gym on Thursday after school.
"THE GAME"
Friday, October 7th, 6:45-9PM at Williams Stadium
Game 1 (1st Half) A-Team Freshman v A-Team Seniors
Game 1 (2nd Half) B-Team Freshman v B-Team Seniors
Game 2 (1st Half) A-Team Sophomores v A-Team Juniors
Game 2 (2nd Half) B-Team Sophomores v B-Team Juniors
Game 3 – Loser Game 1 v Loser Game 2
CHAMPIONSHIP:       Game 4 – Winner Game 1v Winner Game 2
POWDERPUFF AT ATHENS FRIDAY, OCTOBER 7TH, 2016
ADMISSIONS:     General Admission will cost $5.00.  Participants, coaches and cheerleaders will be admitted through the gate by wearing their class shirts.
CLASS T-SHIRTS:  Cost of the shirt is included in the $20 registration fee.  Colors are as follows:
Royal                   Seniors                             2017
Orange               Juniors                             2018
Light Blue         Sophomores                   2019
White                  Freshman                        2020
PRACTICE TIMES:       6:00-7:30PM on Tuesday and Wednesday, October 4th and 5th.
TEAM COACHES:  Coaches for all four teams will be selected from Athens Varsity and JV football players.
JAGUAR CLUB:  The Jaguar Club will help coordinate the event through registration sales, promoting event and helping to staff the night of the game starting October 1. Please contact Jill Tate at gagrits306@gmail.com to volunteer.
REGISTRATION:
 All participants including female players, coaches and male cheerleaders must pick up and return a powderpuff registration form and an insurance waiver signed by a parent.  Both forms and $20 fee must be returned by Friday, September 30th.  NO EXCEPTIONS. 
Download the Forms
Registration: pp-2016
Insurance Waiver: certification_accident_ins-1
Registration forms include name, grade, shirt size, address and phone number.
Three officials, adequate security, an announcer and a score keeper will be hired.
Flag football rules will be used in the game (each player carries a handkerchief and blocking is restricted to the front upper body only).
THE GAME:  Divided into 8 ten minute halves
1st Game – Seniors v Freshman (A&B Teams)   10 minute running time per half
2nd Game – Juniors v Sophomores (A&B Teams) 10 minute running time per half
3rd Game – Loser 1 v Loser 2 (A&B Teams) 10 minute running time per half
4th Game – Winner 1 v Winner 2 (A&B Teams) 10 minute running time per half